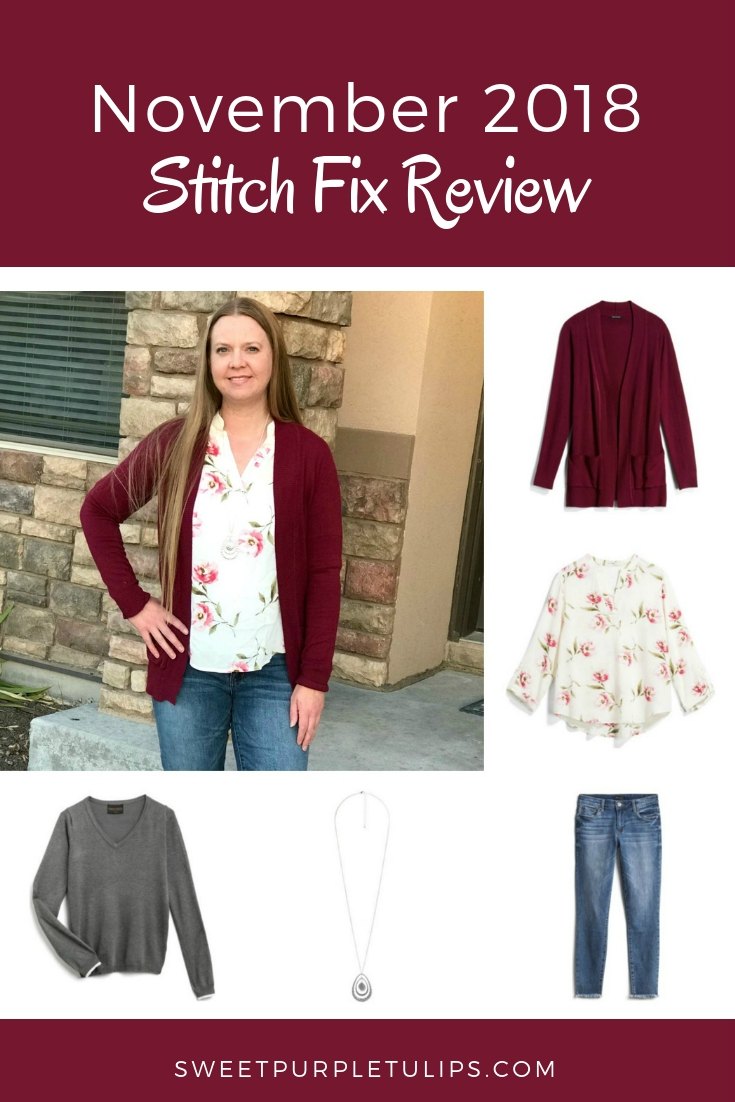 November went a little faster than I expected, but at least I am sharing this Fix before the month actually ends. 😃 I absolutely loved everything in November's Fix. My stylist did an amazing job putting together a great outfit for me and everything was priced right. BUT, with Christmas fast approaching, I decided to save my budget for gifts and only keep one item.  Trust me, it was a hard choice because this Fix really was a 5/5.
This post contains affiliate links.  If you sign up for Stitch Fix through my referral link, I receive a commission that supports my blog.  Please read my disclosure policy for more details.
Not familiar with Stitch Fix?  Check out my post-Finding Style with Stitch Fix to read about how it works.  I love getting a box of new clothes and being able to try them on in the comfort of my home. With Stitch Fix, you can mix and match with items you already own and try new styles.  Keep what you want and send back anything you don't (with free shipping both ways). There is no minimum purchase, and you can choose how often you want to receive a fix (automatically ship every 1-3 months or manually choose a date).  I love getting clothes that fit great and look fabulous without a lot of effort.
  What I Kept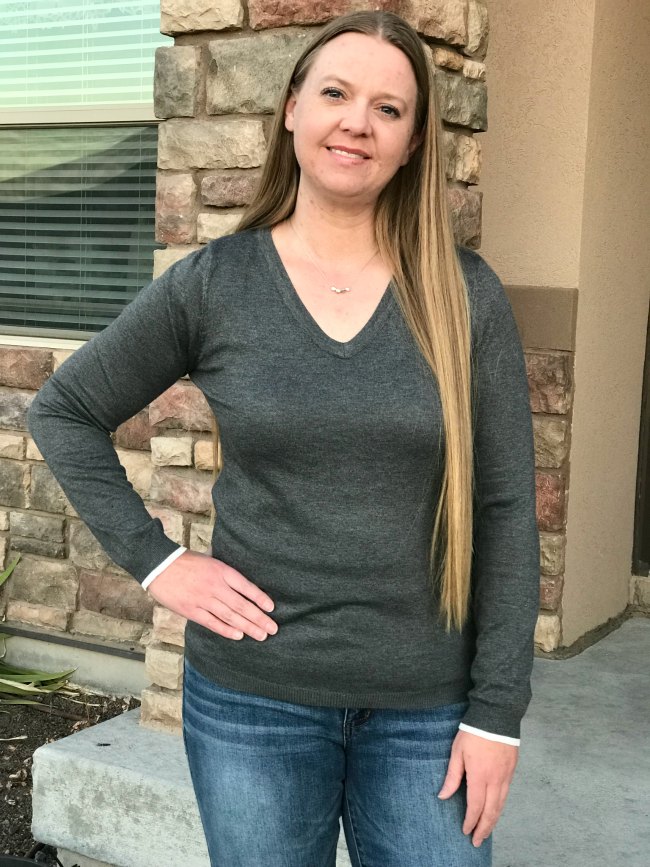 Before I joined Stitch Fix, I didn't own any type of sweater. Yes, I am serious.  I thought most sweaters were uncomfortable and bulky, and I just preferred t-shirts all year round.  One of the biggest benefits of trying Stitch Fix was getting to try different types of clothes that I normally wouldn't try at a store.  Of course, trying new items opened my eyes to great clothes I had been missing out on.  
When I first saw this pullover, I thought it looked nice.  As soon as I put it on, I loved it.  It was warm and comfy, without being bulky.  I love the white trim on the sleeves and it is so cute on.  It will definitely be a new favorite this winter!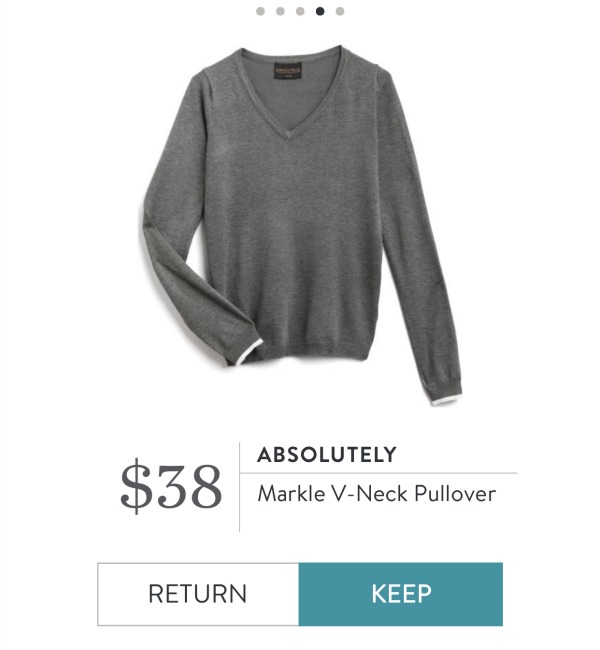 What I Returned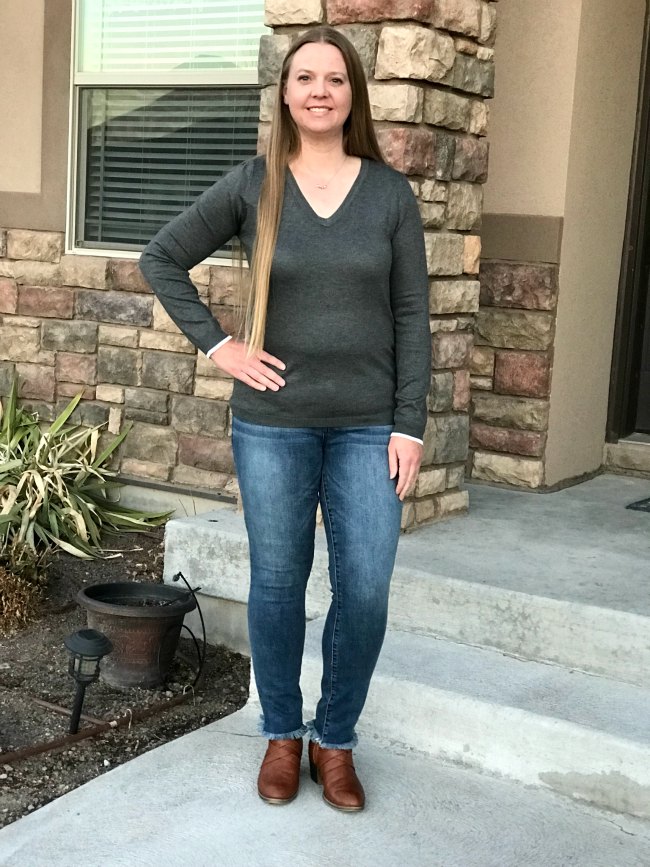 My college daughter came home for Thanksgiving and was there when I opened my Fix.  She saw these jeans and took off to her room to try them on before I even had a chance. (She will be getting her own Fix for Christmas since she always tries to borrow my clothes!) 😂 
I loved the color of these jeans and the fit was amazing.  My daughter loved the fray on the bottom and said it was a flattering cut on everyone.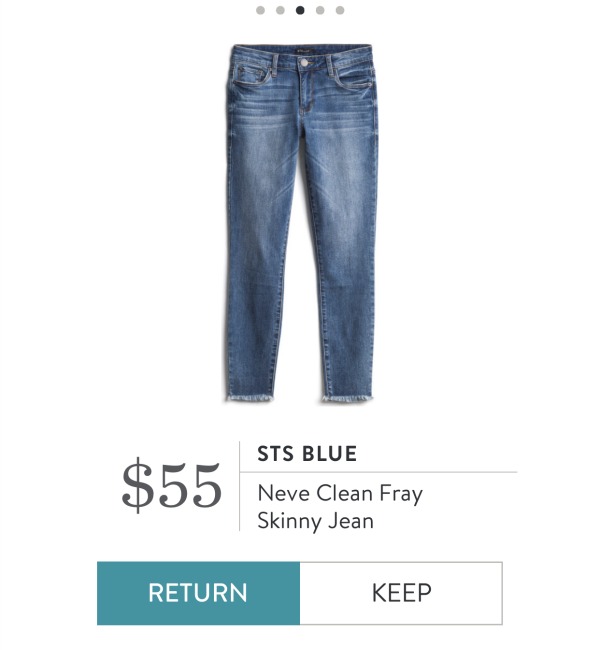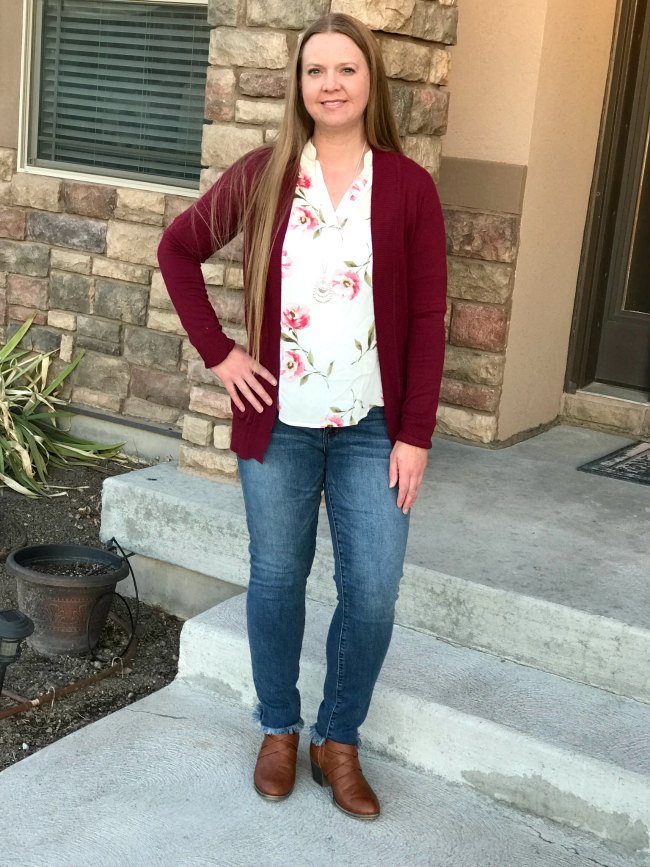 I loved how four of the items in this Fix made a complete outfit.  The red cardigan was soft and comfortable on and I loved the color.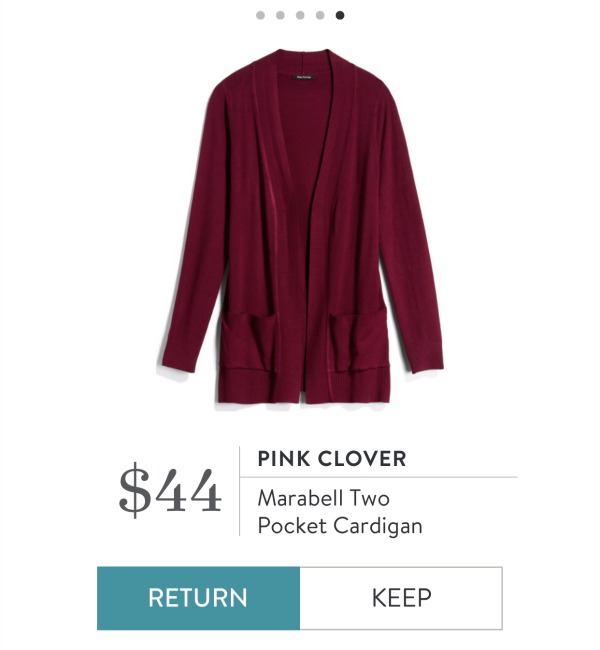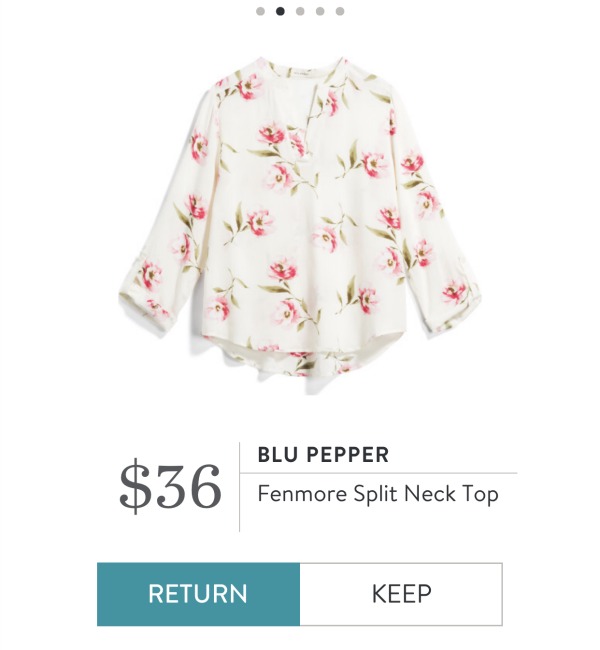 If you have seen my other Fixes, you know how much I adore florals. 😃  This top was similar to others I have received and I loved the colors and print of this one.  The fabric was a little thin for me, and it needed a cami underneath. It was a beautiful top though.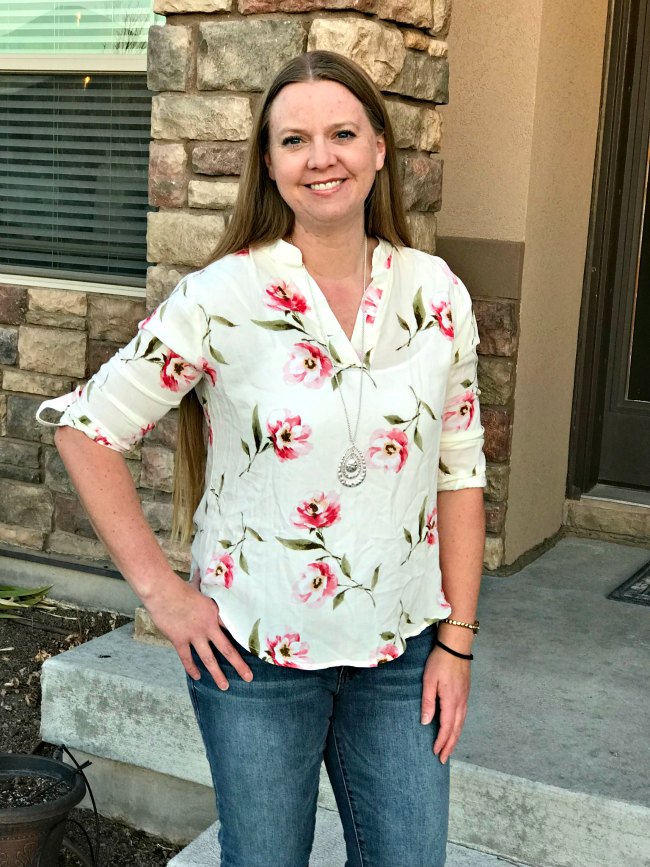 And finally, I really liked this pendant necklace.  The design and length made this necklace the perfect accessory to any outfit.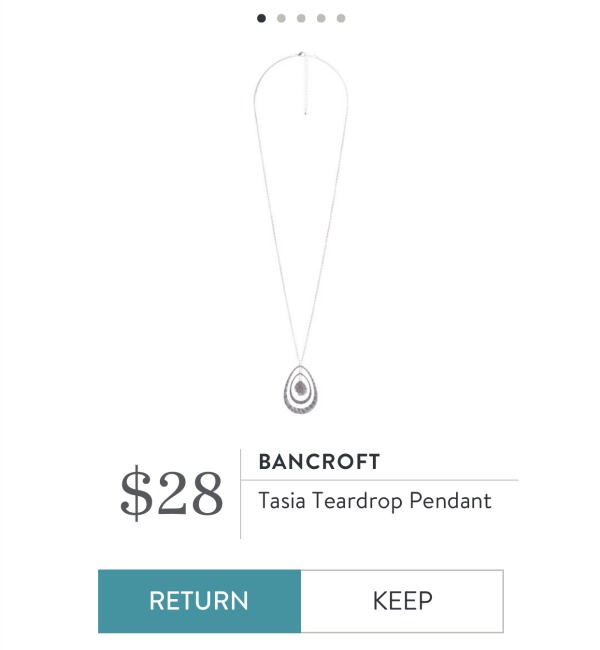 This Fix was one of my favorites, and I can't wait to see what comes next month!  I am also ordering fixes for all three of my daughters for Christmas and they are so excited to see what they get. 
If you would like to learn more about Stitch Fix or give the gift of style to someone you love, check out my post-Finding Style with Stitch Fix or check out the Stitch Fix website.  For more Stitch Fix style ideas, check out my Pinterest style boards.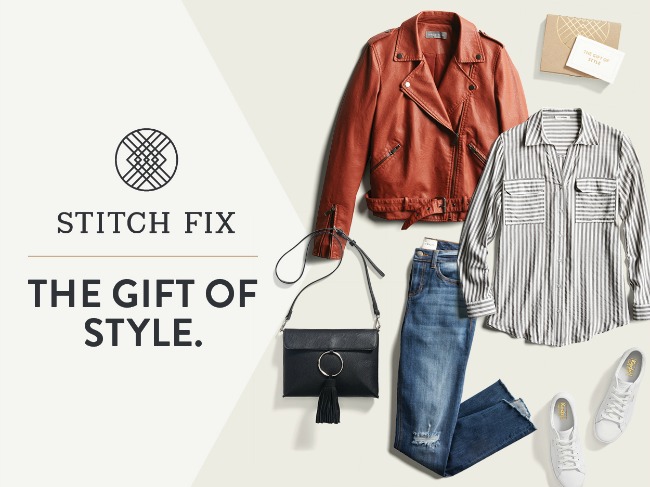 To learn more about the jewelry in my photos, check out my post-Unique Jewelry Ideas!
You might also like: