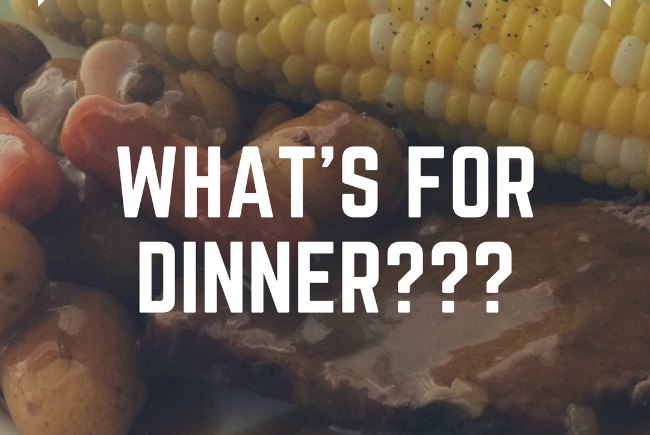 What's for dinner??? The age-old question that has to be answered EVERY.SINGLE.NIGHT.  Some weeks, I do really awesome with meal planning.  Other weeks, it is a nightly struggle.  Before you call for pizza or hit the nearest drive thru, check out this list of 101+ dinner ideas.  Want even more ideas? Check out  Sweet Purple Tulips on Pinterest for more recipes (organized by type).  I also post a recipe on my Facebook page every day, so make sure to like Sweet Purple Tulips on Facebook!
Cabbage Rolls
French Dip Sandwiches
Grilled Steak with Mushroom Tarragon Cream sauce
Lasagna
Pepper Steak
Spaghetti and Meatballs
Steak and Cheesy Bacon Potatoes Foil Packs
Stroganoff
Sweet and Sour Meatballs
Tacos
Tator Tot Casserole
Tin Foil Dinners
Broccoli cheese casserole
Broccoli chicken casserole
Buffalo Chicken Salad Sandwiches
Chicken Alfredo
Chicken Fajitas
Chicken Lasagna
Chicken Parmesan stuffed spaghetti squash
Chicken Pot Pie
Chicken Salad on croissants
Country Fried chicken and mashed potatoes
Parmesan Chicken Ziti with artichokes and spinach
Sweet and Sour chicken with Fried Rice
Teriyaki Pulled Pork Sandwiches
Roast with Potatoes and Carrots
Beef Stew
Chicken Noodle Soup
Chili
Clam Chowder
Honey mustard Chicken avocado bacon salad
Sweet Pork Salad
Other
Baked potatoes (Bacon cheese, Broccoli cheese, Chili cheese)
Breakfast for Dinner (Pancakes, Waffles, French Toast, etc.)
Breakfast Burritos
Creamy Spinach Parmesan Spaghetti Squash
Creamy Spinach Tomato Tortellini
Hoagies/Sub sandwiches
Homemade Pizza
Shrimp, Mushroom and Spinach Alfredo
This will be an ever growing list, so check back often for more ideas!