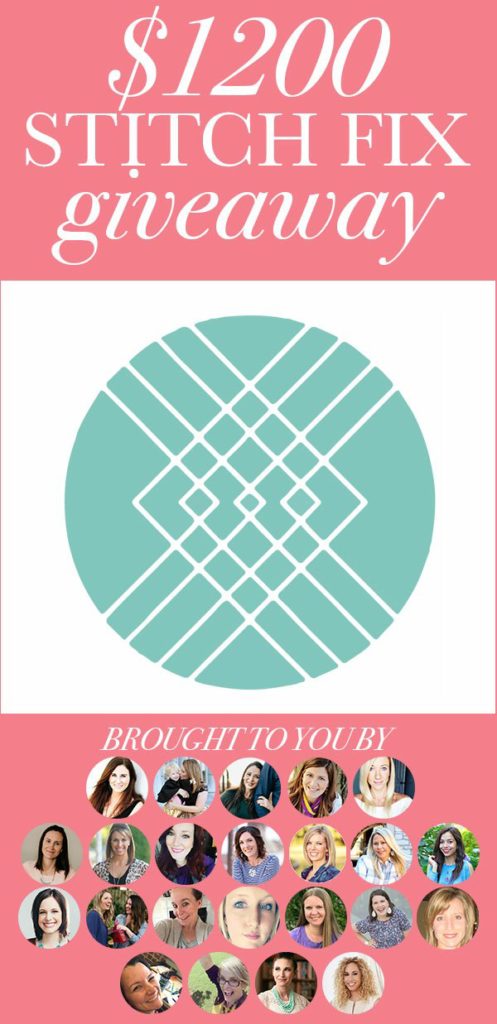 The giveaway is now over. Congratulations to the winner-Tom and Cindy K!
I am so glad I was able to be part of this giveaway. All of us bloggers that participated have been incredibly touched by their story. This is from the organizer of our giveaway (Crazy Together):
"Tom apparently entered the giveaway for his wife, Cindy. After I emailed Tom, Cindy messaged me on Facebook and left a very heartfelt message of thanks. Apparently she and Tom have had a rough couple of years due to health issues and economic strains. Cindy was recently diagnosed with liver cancer and has lost a lot of weight as her health suffered. She can't afford to buy properly fitting clothes so this prize is truly an answer to her prayers." To quote Cindy, "you unknowingly just gave me back my pride knowing I will again be able to look nice and feel good about myself❤❤".
•••••••••••••••••••••••••••••••••••••••••••••••••••••••••
I am so excited to once again be part of an AMAZING Stitch Fix Giveaway.  The giveaway starts today and runs through February 7.  One lucky person will win a $1200 gift card to Stitch Fix.  To enter, log in with your email or Facebook account below.  You get one entry for each account that you follow or visit (follow me on Instagram and Pinterest!).  Good luck!
New to Stitch Fix? Check out my post, Finding Style with Stitch Fix to read about how it works.  You can also see all my monthly reviews HERE.
Sponsored by:
Sweet Pea | Kim's Cravings | Pearls and Sports Bras | The Eyes of a Boy | Still Being Molly | Mom Spark | Crazy Together | TheBoxQueen | Take Time for Style | Emily Enchanted | Passion for Savings | What's Working Here | Every Little Thing She Does is Meh | kiddoandsoul | Sweet Purple Tulips | The Mom Creative | Mom Advice | Hispana Global | Jo-Lynne Shane | Kitty's Boxes | Pearls and Pantsuits | This Girl Can Blog | Lipgloss and Crayons
FINE PRINT: This sweepstakes is open to US residents 18 and over and is in no way sponsored, endorsed, or administered by Stitch Fix. No purchase necessary. The giveaway ends at 11:59pm on February 7, and the winner will be notified via email within 48 hours of the giveaway closing after the winning entry is verified. The winner has 48 hours to respond via email and claim the prize or another winner will be chosen